Two temperatures can be set from -5℃ to 20℃
Sake & wine cellar with a refrigerator functionality
| | |
| --- | --- |
| Price | OPEN |
| JAN code | 4589953360332 |
| Brand Name | SAKE CELLAR® |
| Model name | SJ8 |
| Color | Black |
| Case | Double-door case |
| External dimensions (mm) | Width 796 x depth 585 x height 1910 (excluding handles) |
| Heat dissipation space (mm) | 30 on the left and right, 100 on the top, 50 in the back |
| Wine bottle (750ml) storage capacity | 126 bottles (63 in each of the left and right sections) |
| issho bottle (1,800ml) storage capacity | 60 bottles (30 in each of the left and right sections) *vertical |
| yon-go bottle (720ml) storage capacity | 104 bottles (52 in each of the left and right sections) *vertical |
| Effective storage volume | 334L |
| Weight | 150kg |
| Temperature adjustment | −5℃~20℃ in both the left and right sections *The temperature can be set in units of 1 degree *Storage at Hyo-on Temperature is possible |
| Temperature setting method | Touch-button type |
| Usage environment | 5℃~30℃  Humidity 60%  No direct sunlight |
| Temperature adjustment | Temperature sensors: 2 per section, 4 in total |
| Control | Microcomputer control |
| Rated power consumption of the electromotor (50/60Hz) | 360/360W |
| Rated power consumption of the electric heating device (50/60Hz) | 180/180W |
| Rated power consumption of the interior light | Two 2W(LED) |
| Heater | Defrosting/Can also be used for heating/Condensation prevention |
| Fan motor | Two 12V DC fans |
| Rated current | 4.7/3.9A |
| Refrigerator type | Hermetically sealed reciprocating compressor |
| Refrigerant amount | 130g |
| Refrigerant name | R134a |
| Power source (50/60Hz) | Single-phase 100V |
| Power cord length | 2.0m |
| Heat insulation | Achilles Board (cyclopentane) |
| External materials | Powder-coated steel plate PVC ABS |
| Inner case materials | Coated steel plate |
| Board materials | Glass epoxy resin |
| Door materials | Glass ABS PVC cyclopentane |
| Shelf materials | Steel wire shelves |
| Shelf number | 14 large and 7 small shelves |
| Included | Instruction manual (warranty) |
Additional charges may apply when shipping depending on the environment where the product is installed.
The shipping fee is increased for remote areas and Okinawa Prefecture (Shipping fees estimated separately for each customer).
Hyo-on Temperature is a registered trademark of the Japan Hyo-on Association. The trademark may be used only on food and equipment which has joined the Association and has been certified by it.
Product catalog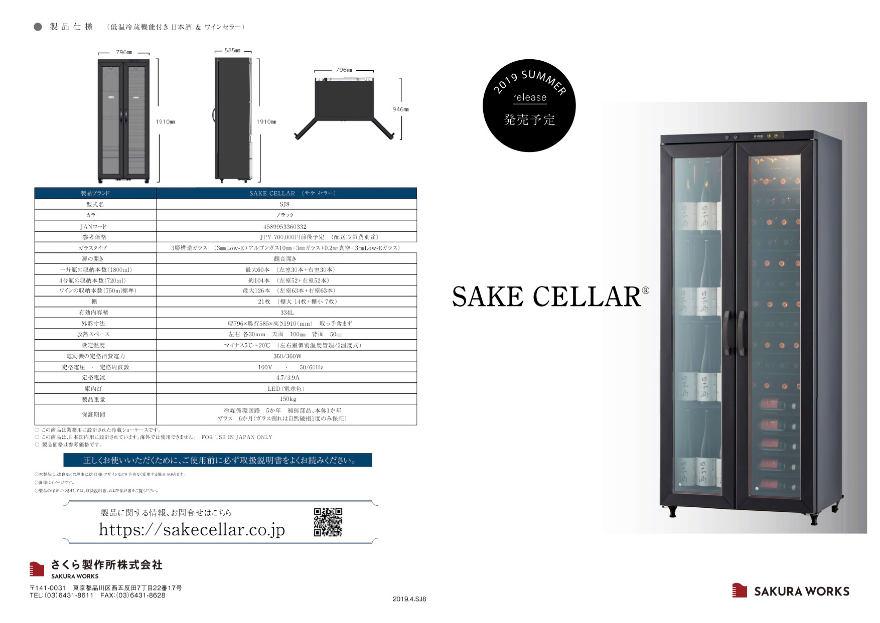 Approved draft