Vacuum insulating glass with 99.9% UV protection※ and excellent insulation
SAKE CELLAR® offers 99.9% UV protection and prevents the penetration of UV rays, which can cause the quality of sake to deteriorate. The secret lies in our choice of a vacuum insulating glass known as "Spacia®." As a material used in glass windows in residences across Japan due to the excellent insulation it offers, this special glass creates a layer of vacuum between the door panels. The cellar is fully equipped with triple-layered glass doors that contain Low-E glass in addition to this vacuum insulating glass.
Between the vacuum insulating glass and the Low-E glass is a layer of ultra-insulating glass that has been filled with "argon gas" capable of cutting out around 30% more heat than air. The special doors of the cellar have also been thoughtfully designed with the purpose of showcasing the sake stored within.
Based on research conducted by Sakura Works Inc.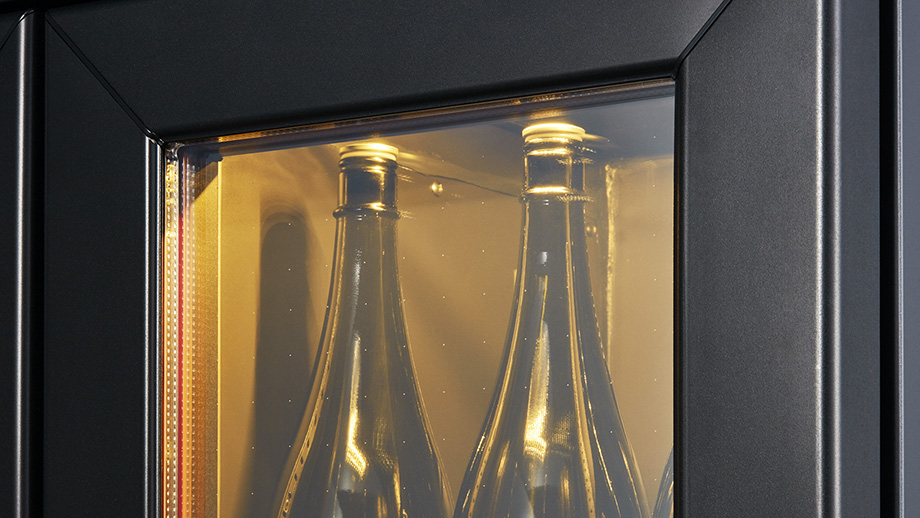 Cellar design with low risk of condensation and resistant to mold and mites
There is almost no risk of condensation forming on the external surface of the glass. SAKE CELLAR® has been designed in such a way that its compartments will be hardly affected by the air outside even at an internal temperature of -5℃ due to its excellent insulation and a negligible transmission of heat currents. By installing anti-condensation heaters at the necessary spots within the main frame, condensation on the cellar's external surface is prevented and the risk of mold and mites is reduced. This makes periodic cleaning of the equipment easy to carry out, and allows the cellar to be kept as clean as possible.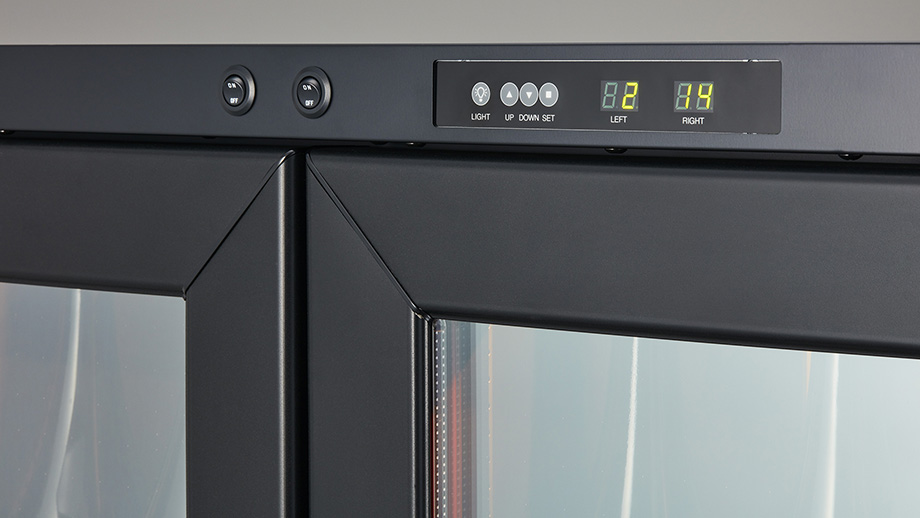 Cellar structure that is well-protected from vibrations and odors
The main frame of SAKE CELLAR® is durable, offers excellent insulation, and can maintain a constant temperature of -5℃. In addition to preventing internal temperature fluctuations even when its doors are opened and closed regularly, the cellar has a robust build which does not pass on the vibrations of the compressor. Anti-condensation precautions have also been taken to ensure that the cellar is well-protected from odors generated by the growth of mold.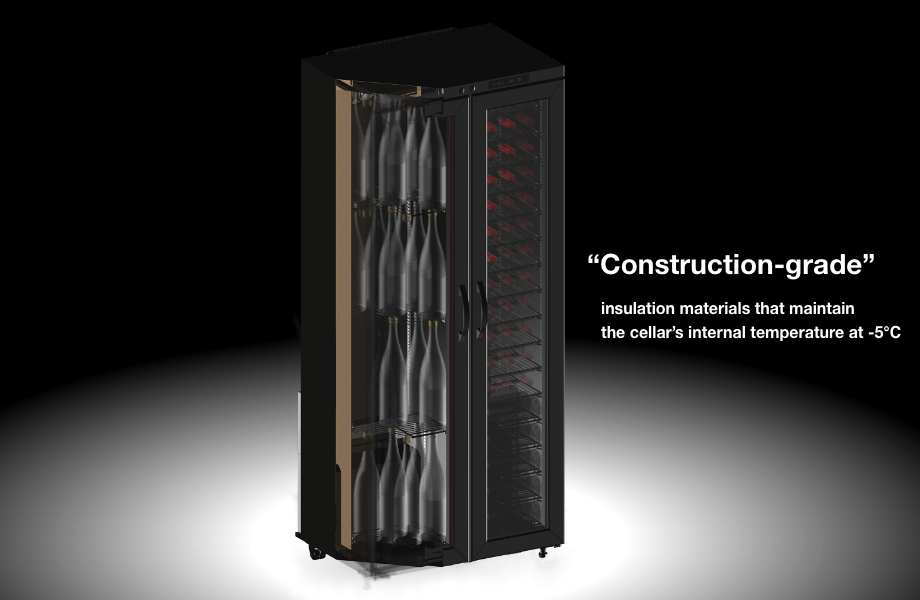 Compact size that takes into account tight spaces
The depth of SAKE CELLAR® is around 58cm※. Designed with a thinner build, this cellar can be utilized in various locations such as the hall, kitchen, corridors, counters, and backyard of a restaurant, which offers greater flexibility as compared to models with a bulkier build. In addition, its double doors have been designed to require less free space in front of the cellar to open and close.
Dimensions exclude door handles
Component-specific painted coatings and an elegant design that blends into your restaurant décor
Each component of SAKE CELLAR® is painted individually with different textures to create a well-balanced and coherent product. The door frame of the cellar is processed with a proprietary fine-grain painting technology to achieve a matte-texture design. The main frame of the cellar is finished with charcoal gray. By avoiding the same black color used for the cellar's door handles and control panel, a sense of coherence is created while ensuring that different components of the cellar are finished with a coating of paint that showcases their respective roles.