01
Temperature Control
The cellar can be set to the ideal sake storage temperature of "-5℃"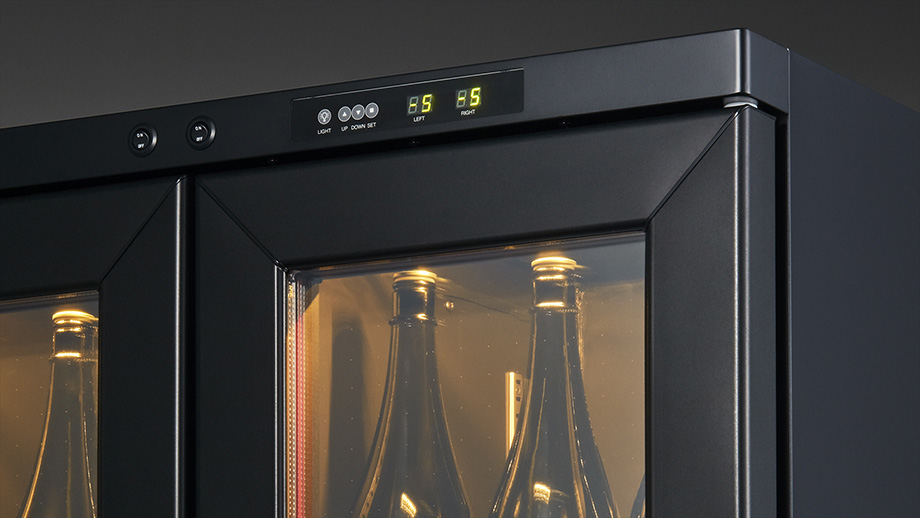 One important feature of SAKE CELLAR® is that it allows sake to be stored at a temperature of -5℃. By storing sake at a temperature of -5℃, you can enjoy sake with a quality close to that of sake served at breweries. The cellar's temperature setting can be adjusted within the range of -5℃ to 20℃, and this wide range of temperatures offers the flexibility of using it to store sake, accelerate the aging process of a sake, or store premium wine alongside sake.
02
Cellar Design
This cellar is designed to store up to 60 issho (1,800ml) bottles or 104 yon-go (720ml) bottles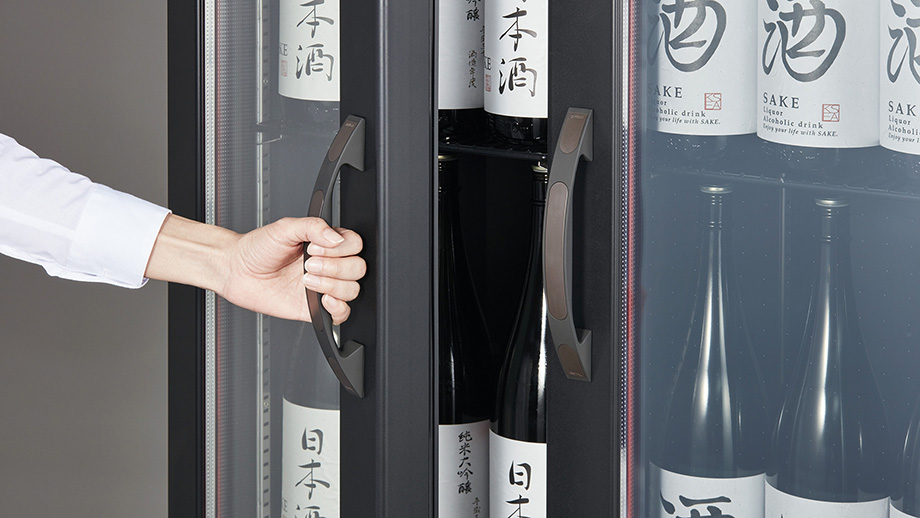 With its large capacity, SAKE CELLAR® can store up to 60 issho (1,800ml) bottles. When storing issho bottles, each compartment of the cellar can hold 30 bottles. For the more common yon-go (720ml) bottle, the cellar can store up to 104 bottles on their side with 52 bottles in each compartment. The height of individual shelves can be freely adjusted, offering flexibility in storing your bottles depending on your restaurant's product lineup or your own private portfolio list.
03
Wine Storage
You can store wine alongside sake at their respective optimal storage temperatures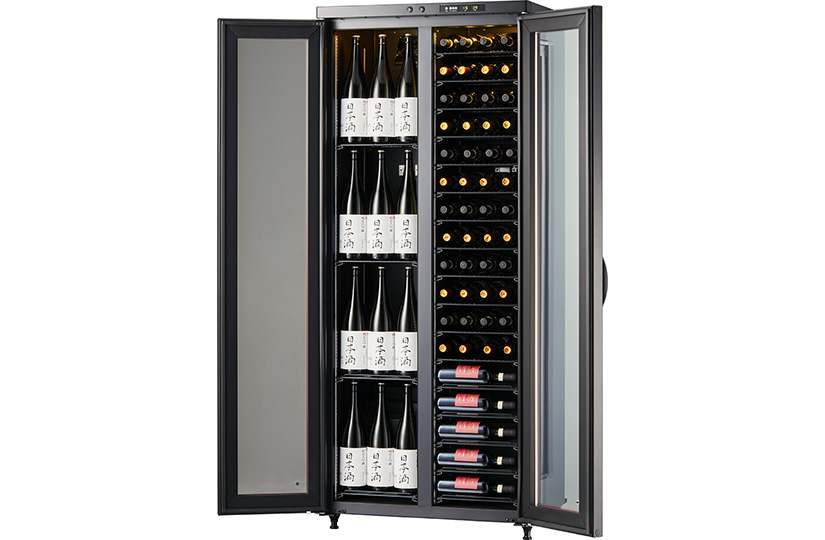 You can use SAKE CELLAR® to store wine alongside sake. One compartment of the cellar can be set to -5℃ for the storage of sake while the other compartment can be set to 14℃ to serve as a wine cellar for the storage of wine. This allows the same cellar to serve two different functions at the same time. As a wine cellar, it can store up to a total of 126 bottles. Equipped with excellent temperature control technology, using SAKE CELLAR® as a wine cellar even allows you to separate red wine from white wine, or full-bodied red wine from medium-bodied red wine, and store the different sets of wine at their respective optimal temperatures.
04
The Developers
A design team comprising professionals with extensive expertise in sake and cellars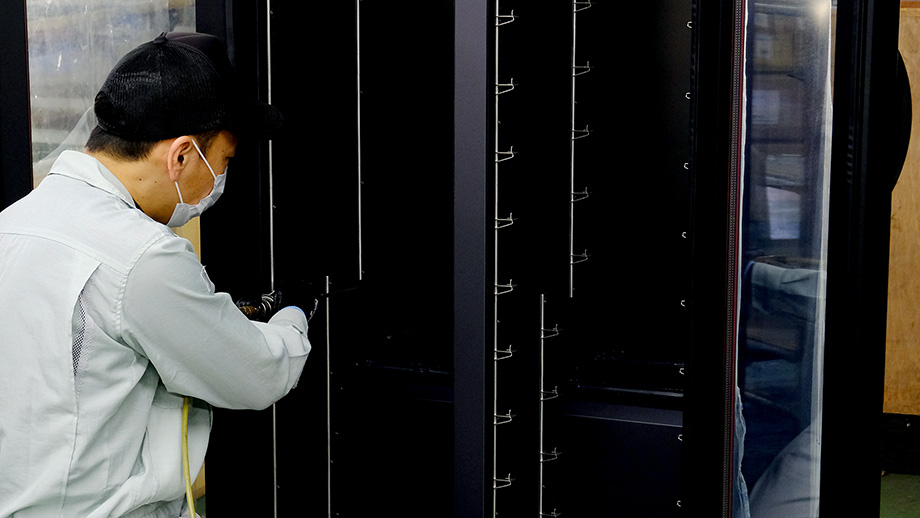 The birth of SAKE CELLAR® can be traced to the collaboration of three companies who came together to find a solution to the issue of temperature control for sake: JAPAN CRAFT SAKE COMPANY Co., Ltd., which is involved in bringing traditional Japanese culture to the global market through sake and traditional crafts; Altekna Co., Ltd., which has been deeply engaged in the development of sake cellars for many years; and Sakura Works Inc., which holds multiple patents for cellar management technology and has a proven track record in the sale of cellars in Japan.
05
Design and Performance
An elegant Japanese-inspired door design that makes your restaurant exude class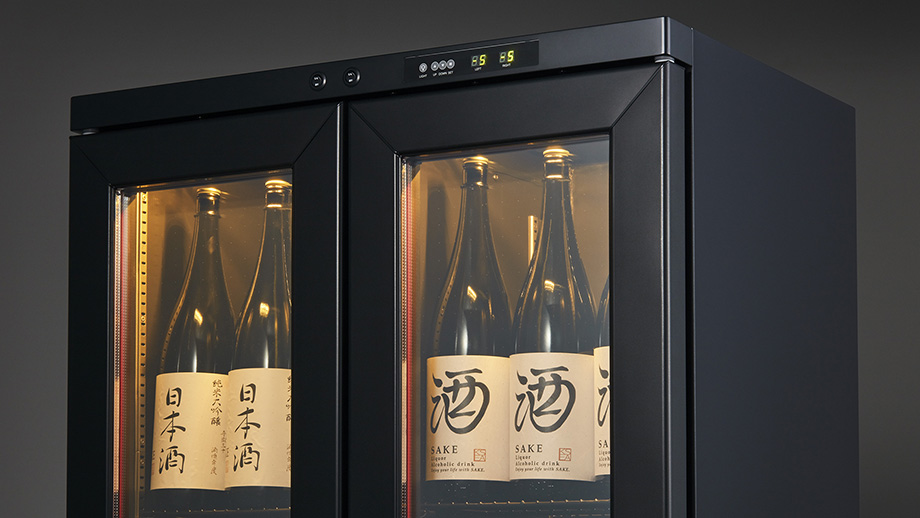 Each component of SAKE CELLAR® is painted individually with different textures to create a well-balanced and coherent product. The door frame of the cellar is processed with a proprietary fine-grain painting technology to achieve a matte-texture design. The main frame of the cellar is finished with charcoal gray instead of black to avoid an excessively heavy feel. The Japanese-inspired door design offers the perfect visual interest for a cellar that has been designed for the storage of premium sake.